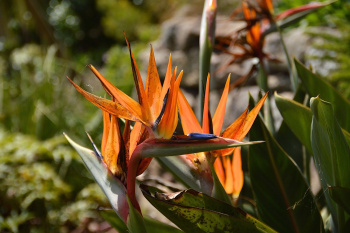 With Cornwall's mild sub-tropical climate, there are a number of beautiful gardens in the county, with a range of exotic plants an flowers. Discover our favourite secret gardens to visit in Cornwall this spring!
Pinetum Gardens, St Austell
Pinetum Gardens is certainly one of Cornwall's hidden gems! The gardens are situated on a 30-acre estate in St Austell, with a wide a variety of gardens to enjoy. Experience peace and tranquillity at the Arbetorum and Japanese Gardens. Enjoy the Cornish Cottage Garden, which is filled with beautiful plants and shrubs. The picturesque Courtyard Garden features a centre piece statue, which is surrounded by colourful flowers. Blissfully meander through the Bridge Garden and enjoy the the scented wisteria, which can be found around the bridge. From there, enjoy the warmest spot in the gardens, the Sunken Garden. Discover over 80 pinetum in the 4-acre woodland and see what wildlife you can spot in the Water Garden. Finish your trip to this magnificent estate by visiting the Winter and Woodland Gardens, with winding paths through an array of plants and beautiful flowers.
Lamorran Gardens, St Mawes
Located on Cornwall's Roseland peninsula, Lamorran is a sub-tropical, Italianate inspired garden. The garden is situated on a south facing slope. When combined with the influence of the warming sea, this micro-climate enables a wide variety of plants to be grown at Lamorran. Its' unique conditions have meant that the gardens remain frost free all year round, with the last recorded frost being in 1987! The garden is home to a range of beautiful sub-tropical flora. There are also areas of peaceful woodland and a Japanese style water garden.
Stay near St Mawes at this beautiful Grade II Listed thatched cottage, which sleeps 6.
Marsh Villa Gardens, Par
Located in a former tidal creek, the Marsh Villa Gardens is a 3-acre water and woodland garden located in Par. The garden is well established, with the first plantings having been placed in 1988. There's a variety of flowers and trees, which sit amongst a charming network of waterways. It has a formal enclosed garden, a large natural pond and peaceful woodland areas. The gardens are great to visit in spring, which is when many of the flowers and herbaceous borders in the garden begin to bloom.
Tremenheere Sculpture Garden, Penzance
The Tremenheere Sculpture Garden in Penzance is a unique garden to visit whilst in Cornwall. It's located in a sheltered valley, which overlooks St Michael's Mount. The land was purchased by Michael De Tremenheere, an established tenant farmer, in 1925. Prior to this date, the land was owned by the monks of St Michael's Mount. The sculpture garden today still carries the Tremenheere name. Today, many exotic and unusual plants are able to flourish in this garden, due to the garden's loaction. Mild winters and shelter from the wind create perfect conditions for the plants of Tremenheere to grow. The garden features a variety of textured and coloured plants, which complement the sculptures throughout Tremenheere.
Holiday near Tremenheere and stay at Dola Lane, a 4 bed holiday cottage that sleeps 8.
Enys Gardens, Penryn
Enys Gardens is considered to be one of the oldest gardens in Cornwall. It was noted in the 1708 Edition of Camden's Magna Britannia for its fine gardens. The 30-acre garden features Parc Lye, a beautiful open meadow. The beautiful bluebells that are found in Parc Lye are said to have been undisturbed since ancient times. The garden also features The Flower Garden, the New Zealand Garden, Broadwalk and The Orchard. There are also breath-taking ponds at the garden, where a waterwheel can also be found. The gardens are beautiful in Spring, when an array of flora bloom, bursting with colour and sweet scents.
Stay at the Haven, a 2 bed holiday cottage near Penryn, which sleeps 4.
Japanese Garden & Bonsai Nursery, St Mawgan
Visit the spectacular Japanese Garden and Bonsai Nursery in St Mawgan, Newquay and discover a calming and special garden. The garden combines the beauty of nature with an artistic refinement, creating a perfect Japanese Garden. In spring, the garden awakens, with Japanese Maples unfurling their delicate leaves into bright and beautiful colours. The magical Cherry Blossom makes an appearance on the trees and Azaleas bloom. It's a special time to visit the garden, with the season bringing about a feeling of excitement for the warmer months ahead.
Stay in Barn Owl Cottage, a family friendly holiday cottage in St Mawgan that sleeps 6.
We'd love to know your favourite secret gardens and hidden gems to explore whilst in Cornwall. Let us know in the comments below!